Book your free basement assessment now!
Talk to one of our experts: 416-836-5253
Basement Underpinning Services

Interhome Waterproofing is a basement waterproofing and underpinning contractor in Toronto serving across the GTA. Since 2004 we have completed hundreds underpinning basement projects safely, maintaining structural integrity and delivering a product of quality that carries a 25-year guarantee.
We are licensed and insured underpinning contractors who have extended experience working with structural engineers and with the required permit application process. We have comprehensive knowledge of structures, foundations and soil types to diagnose and identify unique and often problematic site conditions.
Depending on the proximity of your house to other properties, we offer exterior waterproofing and interior basement waterproofing, including weeping tile and sump pump installation.
Underpinning Toronto's aging houses is very common. An aging foundation can compromise your home's structural integrity. Foundation crack repairs and foundation excavation and reinforcement can accommodate lowering your basement, adding square footage and increasing the value of your property. Extending your foundations deeper can also be done to allow the addition of a second or third floor.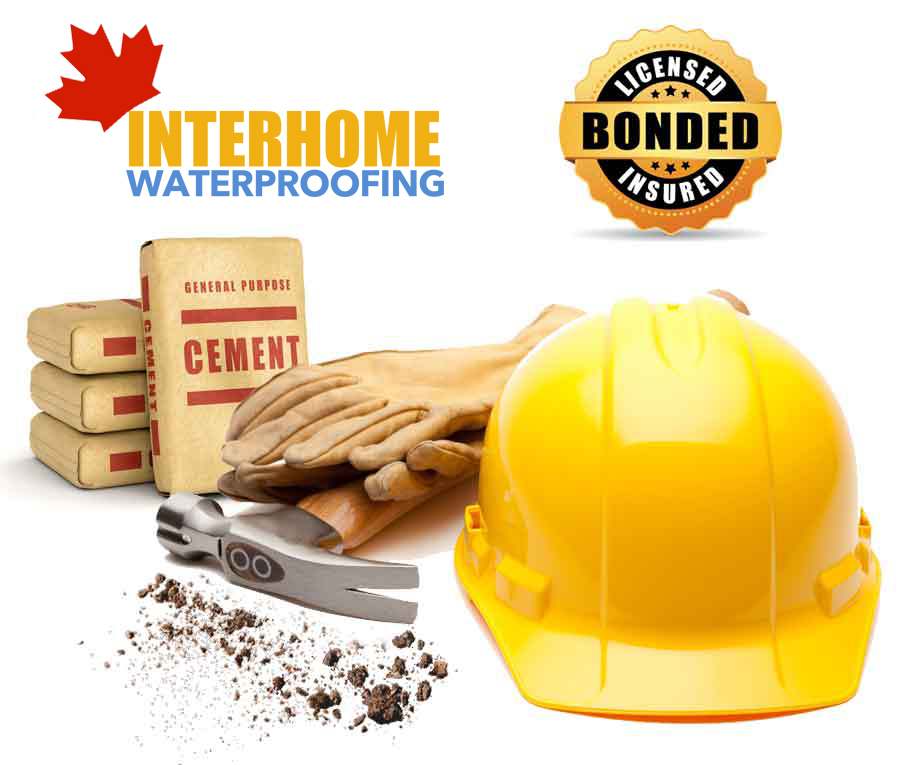 Why Underpin Your Basement
The need for underpinning a basement, or basement lowering as it is also known as, arises for a few reasons:
Foundation integrity
Foundation cracks on the walls and floor indicate a compromised foundation which can be caused by loose soil, house settling, frost heaving or shallow footings.
Strengthening the structure of a house
Whether you wish to add a livable basement space or an additional storey, foundations need to be excavated and deepened.
Subsidence
Downwards movement of the land has occurred causing the ground beneath the foundations to become unstable.
The Underpinning Process
After a detailed assessment and intensive design reviews with your structural engineer we are ready to begin the basement underpinning process.
We begin by removing small sections of the foundation accessible by the crawlspaces and replacing it with load-baring joists. We continue by excavating small sections of the ground to the required depth. Excavating is done in alternate strips as to not compromise the support to the sides of your existing foundation. Reinforced concrete is then poured under the exposed foundation footings. We allow the concrete to properly cure before we proceed in laying a new floor. Before laying a floor a homeowner might choose us to implement interior waterproofing and a weeping tile and sump pump installation. We also offer basement wall sawing and the concrete construction of an exterior basement entrance.
The Underpinning Experts!
Contact Us Today: 416-836-5253
We offer on-site free assessments and detailed quote reports. We will educate you on all possible custom waterproofing solutions and work closely with your mechanical engineer.
Click to view our gallery
Call Us Today: 416-836-5253
Book your free on-site inspection and consultation with one of our basement underpinning experts.
Laura Matheson
Home Owner, Markham
"I just wanted to thank you again for the excellent work your guys did and your very high level of service. You went above and beyond in a number of areas and that is unfortunately pretty rare in the construction industry today. Thanks again.
John O'Connor
Home Owner, Toronto
"Interhome Waterproofing is at the top of their field. We had a wet basement issue and had a few contractors come out for an assessment. Very quickly we were impressed by Ali, one of the owners of IW. He was thorough, patient to explain to us our options, even pointed out that our sump pump was not working properly. We are very pleased with their work. They were professional, courteous and the project manage was always on top of things. Highly recommended."
Leo Boico
Nabeel Construction, Toronto
"As general contractors we rely on our working relationship with our sub-contractors to produce quality work and uphold our good name. We have been working with Interhome Waterproofing since 2008. They have tackled several complex projects and have always delivered on time and above expectations. We value having them as partners and look forward working with them on our next project."
Gus Leonidis
Home Owner, Toronto
"Interhome Waterproofing came highly recommended by our building engineer and we are so glad we took his recommendation. We decided it was time to add a full height basement to our old Toronto house. The underpinning process scared us, but Ali put our fears to rest by thoroughly explaining the safeguards and precautions that their process included. The project went without a hitch and we are very happy with the result and their service."