Book your free basement assessment now!
Talk to one of our experts: 416-836-5253
Sump Installation & Replacements
A malfunctioning or old sump pump can result in a disastrous basement flood in the future. Interhome Waterproofing specializes in:
Sump pump installation
Sump pump replacement
Sump pump repairs
Sump pump cleaning
We offer sump pump installations in Toronto and across the GTA. Since 2004 we have performed hundreds of basement waterproofing projects, both interior and exterior and sump pump installations and replacements are part of this process. We install interior weeping tile systems that are graded towards the sump pump so water accumulation from the ground can be efficiently drained. A sump pumps installation is a MUST for houses and buildings that are in low-lying areas that are prone to flooding. Also areas where heavy snowfall and rapid melting occur are prone to flooding and will greatly benefit by a sump pump installation.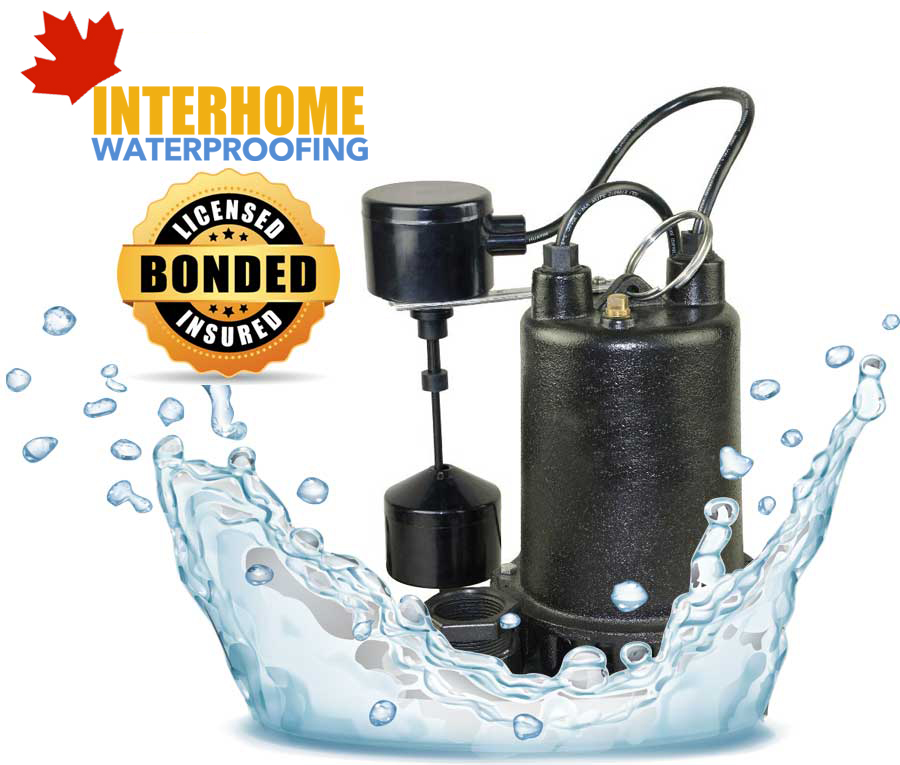 What is a Sump Pump?
A sump pump, as the name suggests, is a pump that is installed in a sump pump pit in your basement. Its main function is to guide water that enters your basement out of the pump pit to be drained away from the building, protecting your basement or crawlspace from flooding. Sump pumps usually stand in a hole with a gravel base. Sump pumps get automatically activated by the presence of water accumulation through a float activator arm or a pressure sensor. Modern sump pumps can have a backup pump, a back up battery in case of an outage, and an alarm that goes off when failure occurs. Some sump pumps even have a wifi enabled alarm that can send out an email or text in the case that there is a malfunction or input triggers.
Interhome Waterproofing are expert sump pump installers and we will educate you on different types of sump pump based on cost, performed actions and power. We will first assess the risks for flooding in your area based on the soil your property sits on, if it is in a flood prone area and other factors. Our consultations and assessments are free, our goal is to provide the best sump pump solutions for your property.
Another great investment, when it comes to safeguarding your basement from flooding is the installation of an interior weeping tile system that accumulates excess water from around the walls of your basement and guides it to the sump pump. Accumulation of excess water is not only a concern for flooding but it also creates leaky and wet basement conditions that mold can grow.
Call Us Today: 416-836-5253
Book your free on-site inspection and consultation with one of our basement waterproofing experts.
Laura Matheson
Home Owner, Markham
"I just wanted to thank you again for the excellent work your guys did and your very high level of service. You went above and beyond in a number of areas and that is unfortunately pretty rare in the construction industry today. Thanks again.
John O'Connor
Home Owner, Toronto
"Interhome Waterproofing is at the top of their field. We had a wet basement issue and had a few contractors come out for an assessment. Very quickly we were impressed by Ali, one of the owners of IW. He was thorough, patient to explain to us our options, even pointed out that our sump pump was not working properly. We are very pleased with their work. They were professional, courteous and the project manage was always on top of things. Highly recommended."
Leo Boico
Nabeel Construction, Toronto
"As general contractors we rely on our working relationship with our sub-contractors to produce quality work and uphold our good name. We have been working with Interhome Waterproofing since 2008. They have tackled several complex projects and have always delivered on time and above expectations. We value having them as partners and look forward working with them on our next project."
Gus Leonidis
Home Owner, Toronto
"Interhome Waterproofing came highly recommended by our building engineer and we are so glad we took his recommendation. We decided it was time to add a full height basement to our old Toronto house. The underpinning process scared us, but Ali put our fears to rest by thoroughly explaining the safeguards and precautions that their process included. The project went without a hitch and we are very happy with the result and their service."