Book your free basement assessment now!
Talk to one of our experts: 416-836-5253
Basement Waterproofing Contractors
We are basement waterproofing contractors in Markham serving across the GTA. Are you experiencing water in your basement or crawlspace? Is it coming down the walls or up from the ground? Markham is a flood-prone municipality and waterproofing your basement can potentially save you hundreds of dollars in flood damages. A waterproof foundation will protect you from exterior water penetration from flooding, heavy rainfall and snow melts.
There are several waterproofing companies in Markham but we truly believe we are above grade. Operating since 2004 we have extensive knowledge and experience of complex basement waterproofing projects. The quality and type of soil your foundation is sitting on, any structural compromise your property currently has, the condition of your foundation, these are all factors we take into consideration.
We offer a 25 year guarantee, we carry liability insurance and we are fully licensed and bonded.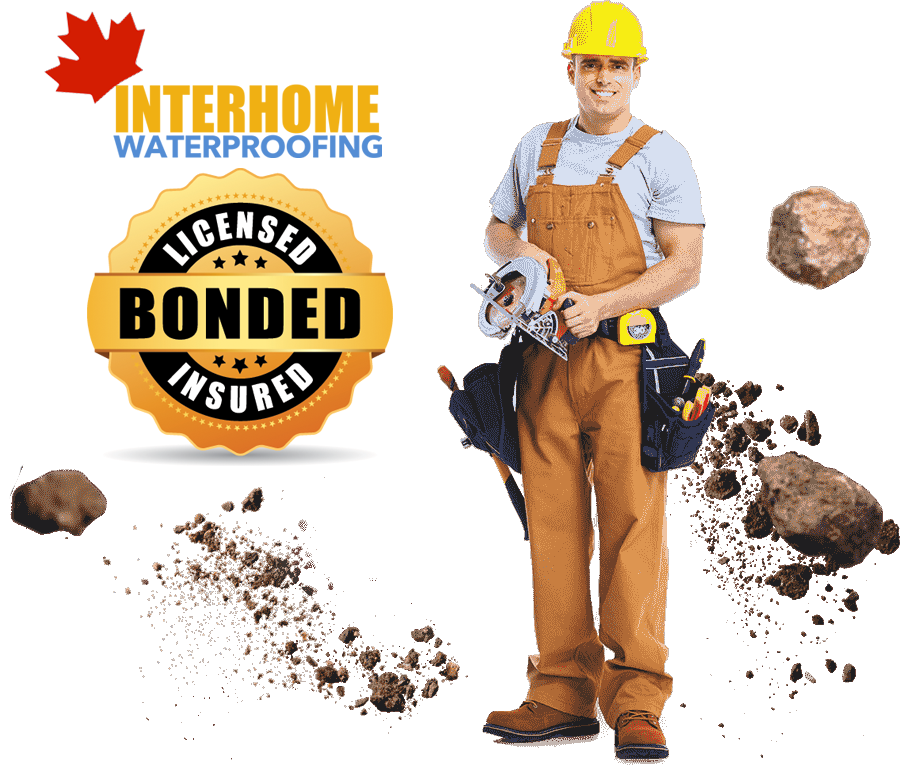 Why Waterproof Your Basement
A leaky or wet basement is a sign of poor or lack of basement waterproofing and foundation cracks. Continued water seepage can result in a flooded basement, mold growth and musty odours. Water penetration also degrades your foundation footings and can compromise structural integrity.
Investing in a finished basement
We are also basement underpinning contractors which provides a deeper understanding of foundation issues, water drainage systems and the value of waterproofing your basement while you are undergoing the basement lowering and underpinning basement process. We also provide concrete cutting services for opening windows and a walk out basement entrance.
Investing in Waterproofing
If you wish to invest in a finished basement, then interior or exterior waterproofing is another investment that adds monetary value but also protection from future flood damage costs. Both new and old houses are eligible for basement waterproofing. New constructions usually have not been waterproofed, unless you specifically requested it. They might feature a finished basement which is an even more important reason for protecting your drywall and flooring from flood damage. Old houses do not have a basement waterproofing system installed and most of them have a crawlspace and not a full height basement. Investing in underpinning will provide structural strength and useable space. Investing in exterior or interior waterproofing will provide access to repair foundation cracks and protect your foundation walls and footings from future water penetration.
We are your trusted basement waterproofing Markham contractors! As part of our waterproofing services we provide weeping tile drainage systems installations, sump pump installations and have the manpower and equipment to tackle both residential and commercial waterproofing projects. We offer a free consultation and assessment and our goal is to educate you on your options and current needs of your property.
Call Us Today: 416-836-5253
Book your free on-site inspection and consultation with one of our basement waterproofing experts.
Laura Matheson
Home Owner, Markham
"I just wanted to thank you again for the excellent work your guys did and your very high level of service. You went above and beyond in a number of areas and that is unfortunately pretty rare in the construction industry today. Thanks again.
John O'Connor
Home Owner, Toronto
"Interhome Waterproofing is at the top of their field. We had a wet basement issue and had a few contractors come out for an assessment. Very quickly we were impressed by Ali, one of the owners of IW. He was thorough, patient to explain to us our options, even pointed out that our sump pump was not working properly. We are very pleased with their work. They were professional, courteous and the project manage was always on top of things. Highly recommended."
Leo Boico
Nabeel Construction, Toronto
"As general contractors we rely on our working relationship with our sub-contractors to produce quality work and uphold our good name. We have been working with Interhome Waterproofing since 2008. They have tackled several complex projects and have always delivered on time and above expectations. We value having them as partners and look forward working with them on our next project."
Gus Leonidis
Home Owner, Toronto
"Interhome Waterproofing came highly recommended by our building engineer and we are so glad we took his recommendation. We decided it was time to add a full height basement to our old Toronto house. The underpinning process scared us, but Ali put our fears to rest by thoroughly explaining the safeguards and precautions that their process included. The project went without a hitch and we are very happy with the result and their service."