Book your free basement assessment now!
Talk to one of our experts: 416-836-5253
Professional Basement Waterproofing Whitby Contractors
Interior & Exterior Basement Waterproofing systems
Are you finding pools of water on the floor of your basement? That is a clear sign that you have a wet basement, and that means that water is finding its way in from your foundation walls or/and footings. That happens when the hydrostatic pressure on your walls creates foundation cracks which allow water to find its way in to your basement.
Whitby is also a flood prone area and water can come up your foundation floor footings. Whether water comes through the walls or foundation footings, the only way to permanently resolve the issue and avoid future water damage is by installing an interior or exterior basement waterproofing system.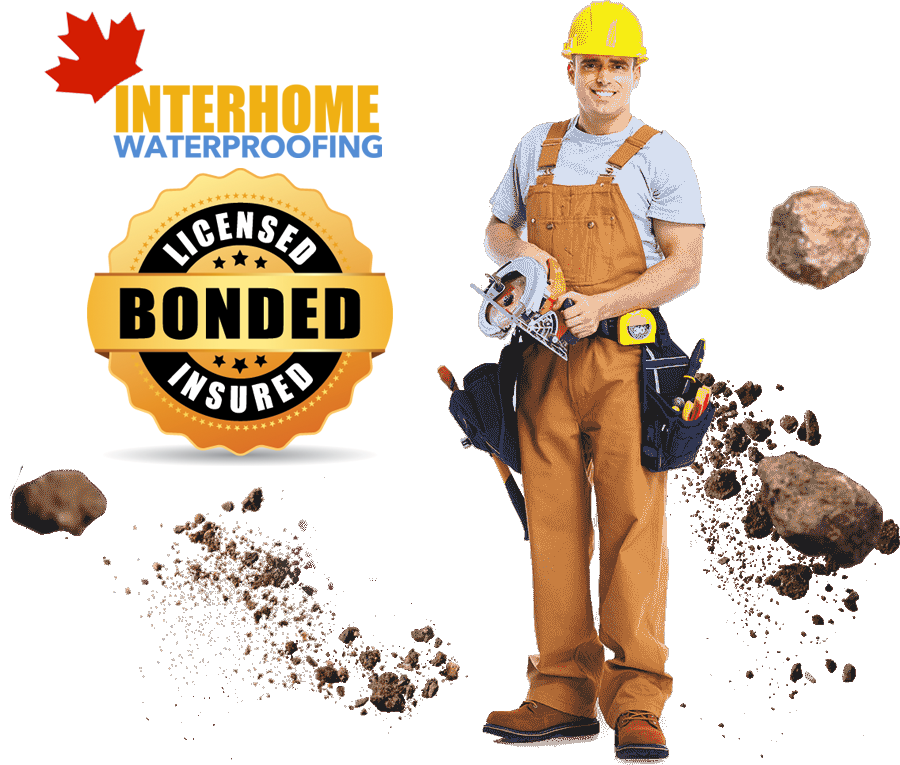 Basement Waterproofing Systems
A basement waterproofing system is mainly comprised of a few layers of waterproof and drainage membranes, the installation of a weeping tile system and an interior sump pump. The membranes seal and waterproof your foundation walls, the draining mats guide water down to the weeping tile system so it can be collected and discarded away from the structure. Interior sump pumps discard water collected by the interior weeping tile away from the property, and will also pump water in the case of a flood.
You can have an exterior or interior basement waterproofing system installed and that depends on a few factors. Basement waterproofing contractors will have to assess the foundation condition, if they can gain proper access to your exterior or interior foundation walls, your existing weeping tile and sump up system and provide you with the basement waterproofing options you have.
At Interhome Waterproofing, we are seasoned basement waterproofing contractors with over 15 of experience in home basement waterproofing, commercial and building waterproofing. We specialize in the installation of interior and exterior basement waterproofing systems, interior, exterior weeping tile and sump pump installations. We also offer foundation crack repairs and wet basement solutions.
We service Whitby and surrounding areas. We are WSIB insured and carry 5M liability insurance. All our basement waterproofing system installations come with a 25yr guarantee.
We offer you a free on-site assessment which allows us to examine your basement and foundation elements and propose to you viable options specific to your case. Give us a call today: 416-836-5253
Call Us Today: 416-836-5253
Book your free on-site inspection and consultation with one of our basement waterproofing experts.
Laura Matheson
Home Owner, Markham
"I just wanted to thank you again for the excellent work your guys did and your very high level of service. You went above and beyond in a number of areas and that is unfortunately pretty rare in the construction industry today. Thanks again.
John O'Connor
Home Owner, Toronto
"Interhome Waterproofing is at the top of their field. We had a wet basement issue and had a few contractors come out for an assessment. Very quickly we were impressed by Ali, one of the owners of IW. He was thorough, patient to explain to us our options, even pointed out that our sump pump was not working properly. We are very pleased with their work. They were professional, courteous and the project manage was always on top of things. Highly recommended."
Leo Boico
Nabeel Construction, Toronto
"As general contractors we rely on our working relationship with our sub-contractors to produce quality work and uphold our good name. We have been working with Interhome Waterproofing since 2008. They have tackled several complex projects and have always delivered on time and above expectations. We value having them as partners and look forward working with them on our next project."
Gus Leonidis
Home Owner, Toronto
"Interhome Waterproofing came highly recommended by our building engineer and we are so glad we took his recommendation. We decided it was time to add a full height basement to our old Toronto house. The underpinning process scared us, but Ali put our fears to rest by thoroughly explaining the safeguards and precautions that their process included. The project went without a hitch and we are very happy with the result and their service."