Book your free basement assessment now!
Talk to one of our experts: 416-836-5253
Exterior Basement Waterproofing
Interhome Waterproofing is a licensed and fully insured basement waterproofing company serving Toronto and the GTA. Since 2004 we have performed hundreds of exterior basement waterproofing projects for home owners, on both old and new constructions. We have earned our good reputation by providing quality waterproofing services. We employ our, over a decade long, expertise and the best exterior basement waterproofing materials that exist on the market. We offer a 25-year guarantee, a free on-site inspection and competitive pricing.
We specialize in:
Exterior basement waterproofing
Foundation crack repairs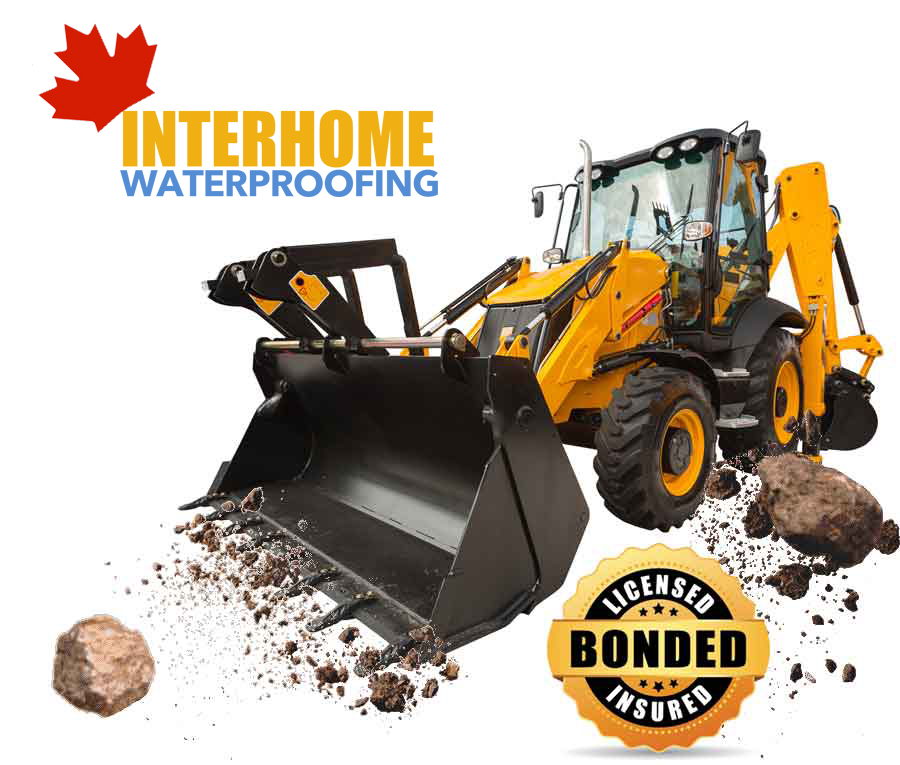 Why Invest in Waterproofing
The need for basement waterproofing can stem from multiple reasons. A leaky or wet basement is a sign of a cracked or compromised foundation. Visible wall or floor cracks, invasive tree roots, a congested weeping tile or the complete absence of a waterproofing application can cause a wet basement, foundation cracks, bad home air quality and even structural problems.
Old homes are not the only ones in need of waterproofing. New house developments do not include waterproofing of the exterior foundation walls. New homes usually only have a damp-proof cloth layer added that will not stop the water intrusion through the foundation block seams and cracks. Investing in a waterproof foundation, including a weeping tile installation, can save you significantly in future repairs.
Basement Waterproofing Cost
There are many factors that contribute to the exterior basement waterproofing cost but the most important one is the materials being used. When you are in the process of receiving quotes for your waterproofing project, the most important question is what are the waterproofing materials the contractor will use. Different materials provide different protection. Also be very aware of basement waterproofing companies that will sell you on their waterproofing services but actually perform damp-proofing which does not protect from water intrusion. So, the cheapest quote is not necessarily the best. At Interhome Waterproofing we use one of the costlier waterproofing products, Blueskin, which is a high-performing composite membrane consisting of an SBS rubberized asphalt compound.
Also, the excavation method can increase the cost of your waterproofing project. If there is not enough clearance or space for an mechanical excavator to access the sides of your home then the excavation needs to be done manually, which increases the labour cost.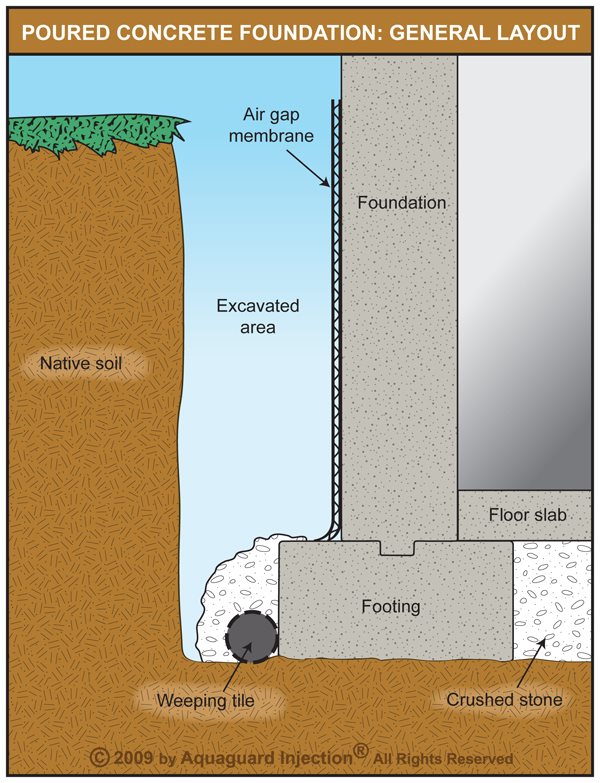 The Exterior Basement Waterproofing Process
Excavating along the foundation walls
First step of the exterior waterproofing process is to remove any shrubs or other items from the perimeter of the house that are flush to the walls. After the area has been cleared underground utilities are mapped so they can be protected during the excavation. Next, we excavate down to the level of the weeping tile exposing the foundation walls and making sure there is a safe and wide enough space for our crew to work in.
Foundation Crack Repairs and Preparation
The foundation walls are thoroughly inspected for cracks, block separation and voids and hydraulic concrete is used to fill all the voids. Hydraulic cement expands as it cures which ensures the cracks are tightly sealed.
Applying the Membrane
Interhome Waterproofing utilizes a self-adhering composite membrane know as Blueskin WP 200. The membrane consists of an SBS rubberized asphalt compound whish is laminated on a high-density polyethylene film. This material is costlier but it is a highly-performing waterproofing barrier which makes it the best material choice in the industry. Blueskin is a waterproof barrier that is tough and flexible and can stretch to continue providing protection even if new cracks develop after the membrane has been applied.
Applying the Drainage Board Membrane
The next layer applied in the waterproofing process is the drainage board membrane, which is uniquely formed air-gap membrane, or dimpled membrane as it is also called. This dimpling effect creates space between the waterproofed walls that allows water to filter all the way to the weeping tile. It channels water away from the walls and it is impermeable to water and water vapour.
New Weeping Tile Installation
Removing the old weeping tile system and installing a brand new one is an important step. A weeping tile provides effective drainage by collecting water and not allowing it to pool at the bottom of your foundation walls and footings. The weeping tile pipes are covered with a cloth to prevent sand and soil plugging the pipe and a layer of gravel is placed on top for better water drainage.
Final Step
The final step of the exterior basement waterproofing process is to tightly pack the remaining space of the ditch with soil, re-plant any shrubs and install any landscape elements that were removed.
Interhome Waterproofing offers good quality basement waterproofing services, give us a call today to make an appointment for your free on-site inspection and consultation: 416-836-5253
The Waterproofing Experts!
Contact Us Today: 416-836-5253
We offer on-site free assessments and detailed quote reports. We will educate you on all possible custom waterproofing solutions and work closely with your mechanical engineer.
Call Us Today: 416-836-5253
Book your free on-site inspection and consultation with one of our basement waterproofing experts.
Laura Matheson
Home Owner, Markham
"I just wanted to thank you again for the excellent work your guys did and your very high level of service. You went above and beyond in a number of areas and that is unfortunately pretty rare in the construction industry today. Thanks again.
John O'Connor
Home Owner, Toronto
"Interhome Waterproofing is at the top of their field. We had a wet basement issue and had a few contractors come out for an assessment. Very quickly we were impressed by Ali, one of the owners of IW. He was thorough, patient to explain to us our options, even pointed out that our sump pump was not working properly. We are very pleased with their work. They were professional, courteous and the project manage was always on top of things. Highly recommended."
Leo Boico
Nabeel Construction, Toronto
"As general contractors we rely on our working relationship with our sub-contractors to produce quality work and uphold our good name. We have been working with Interhome Waterproofing since 2008. They have tackled several complex projects and have always delivered on time and above expectations. We value having them as partners and look forward working with them on our next project."
Gus Leonidis
Home Owner, Toronto
"Interhome Waterproofing came highly recommended by our building engineer and we are so glad we took his recommendation. We decided it was time to add a full height basement to our old Toronto house. The underpinning process scared us, but Ali put our fears to rest by thoroughly explaining the safeguards and precautions that their process included. The project went without a hitch and we are very happy with the result and their service."