Book your free basement assessment now!
Talk to one of our experts: 416-836-5253
Basement Foundation Crack Repair Services
We are expert foundation repair contractors, serving Toronto and the GTA since 2004. As basement waterproofing specialists, foundation repairs and ensuring the structural integrity of your home is part of our expertise. If you have visible basement foundation cracks, fissures or even block separation then you are risking your foundation's strength.
A wet basement and musky smell is also a sign of water finding its way in through foundation cracks. Water seeping in from the cracks continue to eat away the concrete and erode your basement foundation even further.
Foundation crack repairs are also essential in protecting your basement from flooding. When heavy rainfall occurs, water pools at the exterior sides of your foundation. This pressure can increase the size of the foundation cracks and water will find its way into your basement.
Signs of a cracked foundation is visible horizontal or vertical cracks on your basement walls or floor, above doorways and windows. Doors start to jam or not latch, cracks appear on your ceramic flooring and even windows do not close properly. Of course, pooling water on your basement floor is a telltale sign of foundation cracks.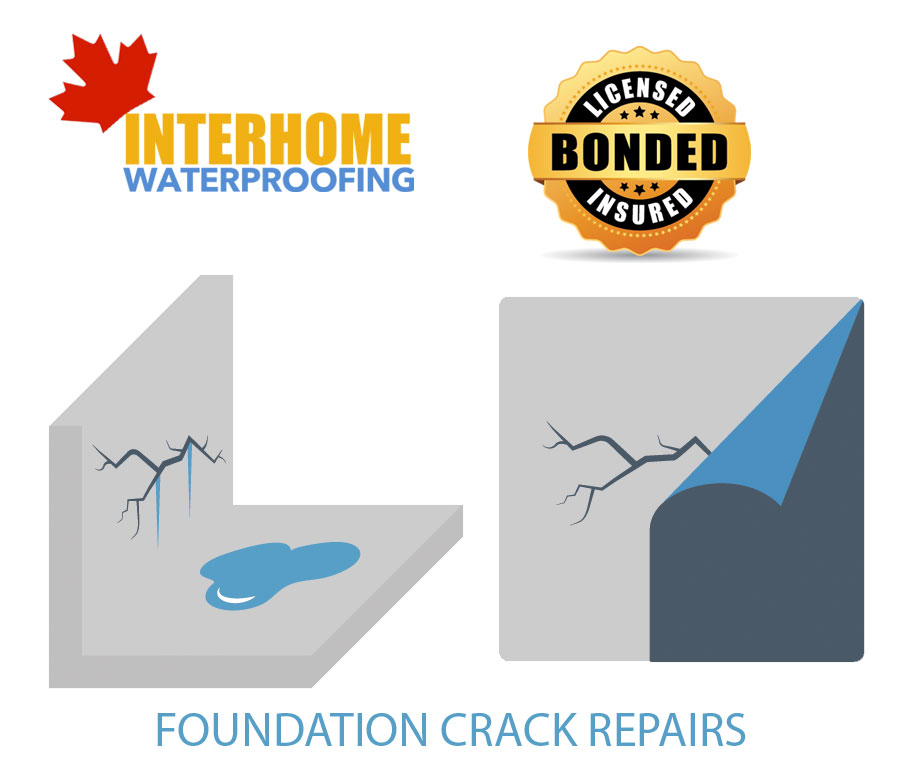 Foundation Crack Repair Methods
For poured concrete foundation cracks,  Epoxy or Polyurethane foam crack injections are used. The choice comes down to the type of crack. For non-structural, wet and leaking foundation cracks, Polyrethane foam is recommended. As the foam is injected in the crack it expands providing a perfect seal.
When the structural integrity of your foundation has been compromised then we recommend epoxy injections. The epoxy bonds with the concrete and reinforces the strength of the foundation wall.
If your foundation is still settling due to sinking soil or extreme weather temperatures then the use of Carbon Fiber Countersunk Staples after the foundation crack injections will reinforce further.
We provide a free on-site foundation assessment so we can inspect the cracks and suggest the appropriate methods and steps that are required. We are licensed, carry liability and WSIB insurance and our tradesmen have decades of experience. We offer industry competitive pricing without compromising the quality of work. We also offer interior and exterior basement waterproofing, weeping tile and sump pump installations.
Call Us Today: 416-836-5253
Book your free on-site inspection and consultation with one of our basement waterproofing experts.
Laura Matheson
Home Owner, Markham
"I just wanted to thank you again for the excellent work your guys did and your very high level of service. You went above and beyond in a number of areas and that is unfortunately pretty rare in the construction industry today. Thanks again.
John O'Connor
Home Owner, Toronto
"Interhome Waterproofing is at the top of their field. We had a wet basement issue and had a few contractors come out for an assessment. Very quickly we were impressed by Ali, one of the owners of IW. He was thorough, patient to explain to us our options, even pointed out that our sump pump was not working properly. We are very pleased with their work. They were professional, courteous and the project manage was always on top of things. Highly recommended."
Leo Boico
Nabeel Construction, Toronto
"As general contractors we rely on our working relationship with our sub-contractors to produce quality work and uphold our good name. We have been working with Interhome Waterproofing since 2008. They have tackled several complex projects and have always delivered on time and above expectations. We value having them as partners and look forward working with them on our next project."
Gus Leonidis
Home Owner, Toronto
"Interhome Waterproofing came highly recommended by our building engineer and we are so glad we took his recommendation. We decided it was time to add a full height basement to our old Toronto house. The underpinning process scared us, but Ali put our fears to rest by thoroughly explaining the safeguards and precautions that their process included. The project went without a hitch and we are very happy with the result and their service."