Book your free basement assessment now!
Talk to one of our experts: 416-836-5253
Interior & Exterior Basement Waterproofing
Are you you dealing with a leaky or wet basement? Has your foundation cracked or been compromised? A waterproofed foundation is the solution. Interhome's basement waterproofing  Toronto division provides basement waterproofing with expert results for Toronto and GTA residents.  Stop worrying about your property or placing at risk your family's health and call us at 416-836-5253 for a free full house basement waterproofing evaluation. We are a family operated company, serving homeowners since 2004 and offer interior waterproofing, exterior waterproofing, foundation repairs, sump pump and weeping tile installations.

We are expert basement waterproofing contractors and we have extensive experience repairing foundation cracks and leaky wet basements.. There is little doubt. A waterproofed foundation is a fundamental necessity. Toronto is known for its varied weather temperatures with hot humid summers, heavy rain and snowfall that repeatedly saturates the ground causing shifting soil that is heavily saturated with moisture. The moisture-saturated soil is constantly pushing against your concrete, stone or cement block foundation. This can cause it to crack, heave or crumble.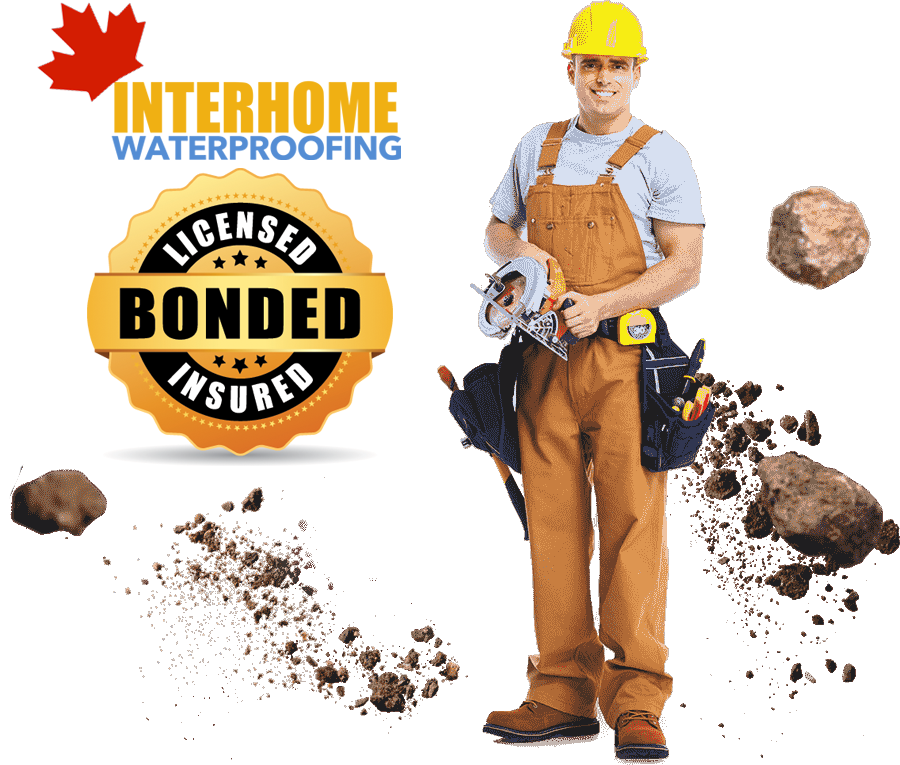 Why Waterproof Your Foundation
If damage to your foundation is left to continue and go uncorrected it likely will lead to bigger problems like a wet leaky basement with water seeping through walls and floors, flooding, mold, wood-rot or even structural damages causing subsidence, sloped floors, bowed walls or even collapse.
We take fixing your property's foundation seriously. We are fully insured skilled and qualified commercial and residential basement waterproofing contractors in Toronto and its surrounding areas. We provide exterior waterproofing and interior waterproofing for basements and crawl spaces. Crawl spaces are seldom understood for the important role they have in maintaining the structural integrity of your property and they are most often overlooked. Crawl spaces can breed mold, pests and rot from water leaks in the floors and cracks in its concrete, stone or cement block walls.
Whether you have a wet and leaking basement or a wet and leaking crawl space locating the source and the point of entry for the leaks is how to determine the method of waterproofing to fix it and prevent it from happening in the future. It could be from broken weeping tiles, and sewer pipes that cause water to seep into the joints between the foundation wall and the basement floor, causing cracks in the concrete.
Exterior Basement Waterproofing
Exterior Waterproofing is one option to resolve this problem and involves the following process:
Excavation around the perimeter of the building to a depth between 4 to 8 feet deep and 2.5 feet wide to expose the foundation walls and footings.
The foundation walls are washed down and examined for holes or cracks. Once dried, these areas are chiseled out, and repaired with non-shrink specialized hydraulic cement that is applied to the crevices.
The foundation walls and footings are fully covered with a rubber bithuthene membrane
The foundation wall is covered with a plastic drainage mat all the way down to the footing level
Broken weeping tiles are removed and new weeping tiles are laid and connected to the appropriate drainage point.
Clean ¾" gravel is laid over the weeping tiles.
The soil is backfilled and compacted to prevent future settling.
The debris is removed from the site
The previous landscape materials such as plantings, mulch, interlocking stone, asphalt, concrete is re-installed like new
The Waterproofing Experts!
Contact Us Today: 416-836-5253
We offer on-site free assessments and detailed quote reports. We will educate you on all possible custom waterproofing solutions and work closely with your mechanical engineer.
Interior Basement Waterproofing
Interior Waterproofing is a reliable alternative when there is no available exterior access to the foundations. It is also known as an internal perimeter drain system.
This method of interior waterproofing is very effective when dealing with a high water table under the basement floor slab, and cracks in the foundation. The interior weeping tile system is interior waterproofing that will keep your basement dry and is as effective as exterior waterproofing without having to excavate the outside foundations. The installation of this system requires bare basement walls.
Interior waterproofing involves the following process:
In finished basements, the lower part or entire stud walls are removed to expose the bare basement walls.
The footings are fully exposed and a trench for the installation of drain pipes (or drain tile) is made by jackhammering the basement floor slab next to the foundation walls.
The exposed bottom course of concrete block is drilled into to make weeping holes
A perforated drain pipe is laid next to the footings
An air gap membrane is installed over the entire exposed walls
Beneath the basement floor a sump liner and submersible sump pump are installed with the liner cover flush to the floor.
The drain pipe is routed to the sump liner.
Water collects from the concrete and is mechanically directed to the exterior by the sump pump.
The lower portion of the drainage membrane and the drain pipe are positioned and new concrete is poured to repair the trenching along the foundation wall and leveled to the floor.
Upon finishing all that is seen is the membrane secured to all the walls and a discharge pipe leading to the exterior from the sump pump.
An investment that will increase your property's value
Let us help you keep your most important investment on the rise with our expert professionals who are reliable and cost effective.  Don't hesitate, call Interhome Waterproofing at 416-836-5253 and watch us quickly transform your unusable and unsafe basement and crawl space into high efficiency thermo insulated space for you and your family to enjoy. We also offer basement underpinning services, Interhome's basement waterproofing program will clear the mess, replace cracked pipes, install new weeping tile, fill the cracks in the foundations, and clear the drains.
Our basement waterproofing will employ drainage and sump-pumps systems to remove excess water and moisture. Battery backups will ensure that your space is constantly protected from exterior water. Self-draining energy efficient dehumidifiers are installed to eliminate humidity and prevent mold from growing. If there is rotting joists or sagging floors, support jacks will be installed to stabilize and support floors until the rotting beams and joists are replaced with new ones.
Not all basement waterproofing is the same. Every property has its own set of conditions that require expert assessment and budget minded solutions.
It's important to get the right advice from the right contractors. For qualified basement waterproofing contractors in Toronto and the GTA call us at Interhome Waterproofing Tel 416-836-5253. Book your free full basement inspection right away. We are here to help you.
Click to view our gallery
Call Us Today: 416-836-5253
Book your free on-site inspection and consultation with one of our basement waterproofing experts.
Laura Matheson
Home Owner, Markham
"I just wanted to thank you again for the excellent work your guys did and your very high level of service. You went above and beyond in a number of areas and that is unfortunately pretty rare in the construction industry today. Thanks again.
John O'Connor
Home Owner, Toronto
"Interhome Waterproofing is at the top of their field. We had a wet basement issue and had a few contractors come out for an assessment. Very quickly we were impressed by Ali, one of the owners of IW. He was thorough, patient to explain to us our options, even pointed out that our sump pump was not working properly. We are very pleased with their work. They were professional, courteous and the project manage was always on top of things. Highly recommended."
Leo Boico
Nabeel Construction, Toronto
"As general contractors we rely on our working relationship with our sub-contractors to produce quality work and uphold our good name. We have been working with Interhome Waterproofing since 2008. They have tackled several complex projects and have always delivered on time and above expectations. We value having them as partners and look forward working with them on our next project."
Gus Leonidis
Home Owner, Toronto
"Interhome Waterproofing came highly recommended by our building engineer and we are so glad we took his recommendation. We decided it was time to add a full height basement to our old Toronto house. The underpinning process scared us, but Ali put our fears to rest by thoroughly explaining the safeguards and precautions that their process included. The project went without a hitch and we are very happy with the result and their service."