There are a number of different reasons we suggest that basement underpinning is a good investment for Toronto homeowners. Some homeowners want to make use of a crawlspace and transform it into a livable basement space. Other times this process fixes a foundation that's become unstable. On the commercial side, the extra space can increase load capacity.
In a nutshell, this process ensures your basement can be used and accessed and it bolsters the structural integrity of your house.
It makes sense for home and business owners. Here are some other things you'll need to know to be fully informed about how this process works.
Steps for underpinning a basement
There are several steps involved to make sure the job gets done properly. Everything starts with a detailed assessment to make sure the professionals working on the underpinning have all the right information.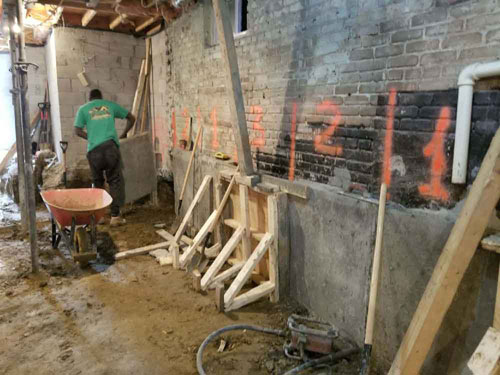 That usually includes working with a structural engineer. When you're looking for one of these professionals to partner with, there are several boxes you should check.
• Find out if they are familiar with the difference between benching and basement underpinning in Toronto. In some municipalities, a structural engineer will need to be involved with periodic inspections.
• Keep in mind that there could be extra costs if you are adding on additions like a walkout to your basement.
• You will need a building permit for lowering your basement floor and a structural engineer must prepare drawings ahead of the work.
Here's another helpful tip that you can include with these underpinning suggestions. If you're having work done, it's a good time to check for radon gas in your basement.
If you have a natural stone foundation, it's more likely you might have this issue.
How Deep is Your Foundation?
Depending on how deep you dig the foundation, you might find a concentration of chemicals that produce radon. Stagnant water in your basement can also create the environment where this gas is produced.
There are a variety of fixes. For example, sealing up any sump pump covers can quite often fix the problem.
Basement Underpinning Methods
Several different methods can be used to strengthen your foundation. These include the pile system and the pier and beam option.
Mass concrete underpinning is another choice. The mass concrete technique is considered the most traditional method. Basically, it involves extending your old foundation until it is stable. This also involves digging under the existing foundation in stages.
The pier and beam method is another option. This was first implemented after WWII because the mass concrete process didn't always work well depending on the depth of the foundation.
Those are just a few of your options whether you're a home or business property owner.
Interhome Waterproofing has an excellent portfolio of successful basement underpinning in Toronto projects. Each one delivers structural integrity and quality. These projects all carry our 25 year guarantee. Keep in mind that we understand the permits that are required and the application process. We also have experience working with structural engineers so these projects go smoothly. Contact us today: 416-836-5253